Upcoming Club Meeting(s) 7:00 - 9:00pm
<summer break-resume in Sept>
Tuesday September 20, 2016
Tuesday October 18, 2016
Tuesday November 15, 2016
<Holiday break-resume in January>
Quality Foods
2nd Floor, Large Committee Meeting Room
110-27 Hlemcken Road
Victoria, BC
Change to Meeting Location
& Time: 7:00 - 9:00pm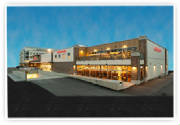 Folks, we have a new meeting location. We still meet on the third Tuesday of the month, but thanks to Lars we have found a new location that does not cost us anything...! Yes, that is right, the cost to use the new location is free.
Quality foods offers two meeting rooms, free of charge, to community groups. We have booked the large community meeting room for our meetings, starting in September. Plenty of parking, lots of food, and a great meeting room with large screen TV.
So mark Quality Foods Supermarket as your location for the first meeting on September 20th, located at 110-27 Helmcken Road (near the Victoria General Hospital). Take the elevator or stairs to the 2nd floor, and you'll find the meeting room next to the Café. See you there...
And since we no longer run executive meetings, we've decided to change the time for the 'regular' meetings to run from 7pm to 9pm...a half-hour earlier...so we're all on the way home a bit sooner.
If you were listening to CFAX 1070 on Thursday May 8th at about 12:30pm you would have heard club member James Hatch talking with show host Frank Stanford. If you didn't catch it we've downloaded a copy of the 20 minute interview and you can listen to it by clicking the link below:

(please be patient, takes a minute or two to download the audio file ~7 Mb)
Congratulations to Mila!
February 27, 2014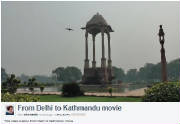 From Delhi to Katmandu
Congratulations to club member Mila Werbik for her top placements in the SCCA Annual Video Competition for 2013. Mila took top honours and first runner up in the Class A Advanced category, and also received two special awards for "Best Cinematography" and "Best Entry." What a sweep..!
Mila's production "From Hanoi to Mekong Delta" was the winner in the Class A Advanced category, and her production "Canadian Tundra" won the 1st runner up position. A third production, "From Delhi to Katmandu" won a special award for "Best Cinematography" while "From Hanoi to Mekong Delta" won a special award for "Best Entry."
And because Mila has uploaded these movies (and more) to Vimeo you can enjoy them from the comfort of your home computer, smartphone or other device. Enjoy and take a bit of time to give Mila your congratulations and feedback.
A Masterclass in Handheld Camera Operation
December 19, 2013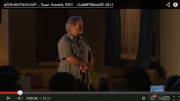 Director of Photography Sean Bobbitt, gives a presentation on handheld camera operations, sponsored by ARRI. Aimed at the professional and advanced shooter, this is an interesting discussion of handheld technique, and the reasons and motivations for shooting this way.
You may want to skip the first nine minutes, where an ARRI rep gives a discussion on some of their cameras.
1938 Hatley Park - "For Sale!"
November 12, 2013
In 1938 Douglas Flintoff (one of the club's founders) produced a film for the sale of Hatley Park. The film was commissioned by the Royal Trust Company, and documents a journey from downtown Victoria out to Hatley Park, with a tour of the gardens and grounds of Hatley Castle. A copy of the 16mm colour film was donated to the Royal Roads University Archives, and this video was made from that film. You can watch this film on Youtube.
While we're on the topic of Douglas Flintoff, he also was an actor in several movies that are also available on Youtube. Look for him as Harkins in the 1937 movie Murder is News and as the Doctor in the 1937 movie What price Vengeance.
Douglas Flintoff was one of eight founding members of the Victoria Amateur Movie Club, formed in 1934, and passed away at age 86 in 1968. For more information on Douglas Flintoff see this article.
Ken Burns - Story Telling
November 19, 2012
Lars came across this documentary on Ken Burns, and wanted to share it with club members. Lars also wanted us to note how the video "...uses several interesting stills that have been layered to create a three dimensional effect." Enjoy..!
SCCA's Panorama
The Society of Canadian Cine Amateurs (SCCA) is a non-profit organization that promotes the arts and science of amateur movie production. Our club is a member of the SCCA, and contributes information about club activities and articles to the SCCA's publication called Panorama.
Take a moment to visit the
SCCA website
to see what is new, and enjoy this great newsletter.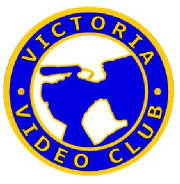 It does not matter whether you are taking video of family activities, making a mini-documentary, or creating a music video for a school band, you can learn to make them better with us. Don't tranquilize your friends and family! Drop into one of our
monthly club meetings
to find out more...


The Victoria Video Club is an amateur video production club, based in Victoria, British Columbia, Canada. The club currently has about 24 members.
Our club is open to anyone interested in amateur video production. If you have been looking for a way to improve your video shooting and editing, or just want to see what other people are producing, then drop in to a club meeting, check out our extensive book and instructional library, and discuss making movies with like-minded enthusiasts.
We are fortunate to have members who use a range of editing platforms and software solutions---so no matter what type of camera you are using or computer for editing you are likely to find someone using the same or similar equipment---including:
Macrosystems: Casablanca series of video editing systems
Macintosh: Final Cut Pro X, Final Cut Pro Express, and iMovie HD;
PC-based: Adobe Premier Pro & Premier Elements, Avid & Pinnacle Studio and Magix Video Pro X and Movie Edit Pro;
Sony, Canon, Panasonic and JVC camcorders and DSLRs and sports cameras like the GoPro and Drift series.
The club's activities include social occasions (dinners and get togethers around town), but our core goal is to improve our video productions through skill improvement. Shooting technique, editing tools and resources, scriptwriting, working with actors (be they your grandchildren or other enthusiastic volunteers) are all topics that come up in our conversations.
The club meetings include screening of videos produced by club members and also by members of other clubs that participate in an exchange program. Often we return the exchanged videos with summaries of our praise and suggestions for improvements. Constructive criticism is key.
Another benefit of membership is that the club participates in several user group programs with publishers: entitling member to discounts on the price of books and ebooks dealing with video making and editing. Drop in to one of our meetings and learn more about the club...!