CFAX's Frank Stanford interviews club member (at the time Vice-President) James Hatch about the history and aims of the Victoria Video Club. Interview is approx.. 20 minutes and a 7 MB download.
Click the SHAW image above to go to our "Videos" page and watch the Shaw TV interview with (then) President Margaret Chamberlain, and club member Michael Veronneau talking about the club. This three minute video appeared for several weeks on Shaw TV's "The Daily"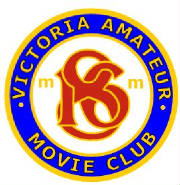 History of Our Club
The club was established in 1941. Born of a growing interest of consumers in the film medium, and the support of the owners of a local photography store, the clubs members set off on a voyage of discovery. A logo was developed for the club which links an 8 and 16, the two film sizes that opened up a world of filming possibilities for the amateur filmmaker.
Over the years a club library of 8mm and 16mm files was built up, many of which were exhibited to the public at annual shows. Since 1995 the focus has moved away from film and almost exclusively uses video (analog and then digital) for the recording and distribution of club members efforts.
The use of computer-based editing software has created a revolution in the capability of movie editors. Editing your footage has never been easier, and the club's resources are organized to help members take their footage and present it in the manner that best suits their wishes. Producing a DVD for family and friends, or for submission to a contest is within the reach of everyone.
The club has gone through many changes, but one thing has not changed: we still have the desire to help fellow club members, and we are still interested in promoting the creation of motion pictures that have an emotional impact on the audience, be that family, friends or the general public.
Visitors are welcome at our monthly meetings, so drop in to learn more about the club..!
Further Club History (by Len Thomas and Margaret Chamberlain).
More "Press clippings" on the club's activities...