Victoria---After four days of intense efforts everyone heard the words that meant the pain was over. "Thats a wrap..." was spoken by Director, Michael Veronneau, on late Wednesay morning after a tiring string of days on location.
"Gin and Tonic: the movie" is based on a theatrical script that Michael came across over two years ago on the ArtAge Publications website (
www.seniortheatre.com/
). But the production could not move forward because he could not find actors will to take on this two-person, 10+ minute long comedy. One look at the length of the script and they were already shaking their heads. But early this summer, at her summer camping retreat, Margaret met and discovered an actor who was willing to take on the lead role of "Stan".
Phillip Pryce-Jones has considerable acting experience, and when shown the script did not hesitate to say "yes." David Fuller got the ball rolling, organizing Margaret (who initially took on the role of Olive) and Phillip to do some rehearsal. It was during one of these sessions that Margaret and Phillip discovered that they had a mutual friend who also enjoyed acting. Annie Spracklen was approached, and the rest, as they say, is history. The project had two actors and had passed a critical milestone.
Several locations were examined and eventually winnowed down to the 'best' comprimise solution. The clubhouse at Margaret's townhouse complex was selected as the site that had the best balance between "looking right" and having usable space for setup of cameras and equipment. But before we could give it the green light we had to seek permission to modify the scipt---as the script refered to an office in an office building, where "Stan" had seen "Olive" several times in the elevator. We had a club house complete with pool, hot tub, sauna, kitchen and games room---no office and no elevators. And the games room (our location) was filled with a pool table that could not be moved. We discussed draping it in a big pink elephant costume and asking people to ignore it...but felt that might not fit with the overall theme of the movie.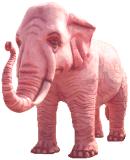 "Necessity is the mother of invention"---so we hit on the idea of having "Olive" working out of a temporary office in a senior fitness centre. This dovetailed nicely with Stan's dialog because at one point in the script he introduces himself to Olive as a 'Senior Fitness Consultant.' And so it could be easily explained that he saw her "...in the hallways" of the fitness centre and we could drop the elevator. A quick note off to Bonnie Vorenberg, ArtAge President, explaining the problem and proposed solution and we were given permission to modify the script. Hurray!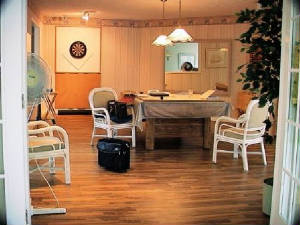 Before - Games Room with no pink elephant
Now, the location did have its problems. A big ceiling to floor length window that would grow bright and dim as the sun and clouds see fit---not as the director sees fit. Two sets of glass paneled double-doors leading into the room, and a 3' x 7' mirror hanging on one wall. Lots of opportunity for unwanted reflections. A few pot-lights, and suspended lights over the pool table, but very little room illumination and all tungstan...heavy on the warm "yellow" colour. Contrast that light with the big sitting room and kitchen outside the games room that has plenty of windows and is ablaze with blue-tinted 'daylight'.
After looking at snapshots of the room (see "Before" picture above) Dave proposed that we change the room's lighting towards daylight balanced light. This would mean swapping out the room's existing light bulbs for the shoot, but at least we would not have to worry about wrestling with mixed lighting…i.e. shooting from a "yellow" room and including parts of the 'Blue" sitting room. The proposal was accepted.
David - Ready to Start!
Then Dave started to dream big. He pitched the idea that he and I split the purchase of an inexpensive fluorescent, daylight-balanced light kit from a site that he had discovered called ImageWest (www.imagewest.tv). To make a long story short, we ended up with seven club members chipping in enough money to purchase a 4-light "Cool" Flo kit, that comes with three soft-boxes and one umbrella and all necessary stands, and throws 3,840 watts of output. Team purchasing power! (see picture "After" below)
After: Games room with new "Cool" Flo light kit
Ok, we have actors, a location, a revised script, and a brand new light kit. Next we needed a shooting plan. If you were editing this story ("how the movie came to be") on your NLE---at this point you'd insert the sound of squealing tires as the production-car skids to a halt. Taking a script and planning the production is a sobering process. Generally actors will stand where you want them to stand, and move where you want them to move. But you need a reason to place them in a specific spot as well as a reason to move them.
Fortunately, there are some excellent resources to assist 'wanna-be' directors…and in my case those resources were:
q Margaret Chamberlain and David Fuller
q "Directing Single Camera Drama" a book by Michael Crisp; and
q "Film Directing Fundamentals: See your movie before shooting 2nd edition, a book by Nicholas Proferes


There is no way that "Gin and Tonic" would have made it as far as it has gone without the guidance, suggestions and support of Margaret and David. Their support was steadfast and tinged with appropriate amounts of humour and honest critique. And I owe a debt to Michael Crisp and Nicholas Proferes for their illuminating text, examples and drawings that helped me bring the script from a theatrical document to a screenplay and eventually shooting script/plan.
Unlike the previous collobration that Margaret and I produced (The Birth of Jesus), this production called for a more sophisticated series of camera setups. We had to wrestle with dialog, audio, and a range of shots that went beyond anything we had done together. In discussion with Margaret and David, it became clear that we would need to consider shooting with two cameras. Fortunately, they both use Sony VX2000 cameras, so we knew that we were working with cameras with equivalent features and capabilites.
Using two cameras, you potentially can reduce the number of times that you will need to shoot a scene. One camera can be shooting a two-shot, while the second camera is taking a medium or close up shot of a character. When you get a good take, you have two good shots for the edit. However, using a second camera also introduces risks and complications. We decided to try using two cameras, and a few weeks before production day arrived, Margaret and David got together to go over their cameras' settings (exposure, etc…) to make sure that there were no surprises when we started shooting actual footage.
We used five "floor plans" showing all the locations in the games room where we would be setting up the cameras. And then I went back through the script annotating it with the shots we would be making and how long they would "run." Time was running short and so Margaret and I decided to forgo the storyboards that we had originally planned. Our preference would have been to spend some time sketching out storyboards for the major shots—as we are firm believers in the power of pictures to convey to the crew what shots will be captured. In any case, we ended up with about 13 camera locations that were used to capture all the footage. Sometimes we had two cameras running, and at other times just one camera.
Sunday September 16th was our setup day. With the genereous help of Gord Wicks all the equipment, lights, and props were lugged into the clubhouse and the room setup. Then we had some precious time to setup and experiment with the new lights "on location." By placing cameras in the various planned locations, and viewing the results on a 13" produciton monitor (thank you Dave!), we were able to satisfy ourselves that lighting was no longer an issue.
On Monday morning we gathered early and did some last minute fine tuning of equipment. By 10:00 a.m. both Philip and Annie were on site and getting a tour of the location. They appeared suitably impressed with all the equipment gathered in the games room, and then we jumped into the fray with a two-hour rehearsal.

"Did you hear the story about...." says Stan to Olive.
In the afternoon we started shooting. The afternoon went by and we were happy with the progress, but that evening, as the footage was being viewed it be came apparent that we had an audio problem. Audio was being captured from a Rode Videomic mounted on a boom pool and connected to our 'master' camera (Margaret's). We were getting some some 'handling' noises from the boom and a bit too much reverberation. So first thing Tuesday morning we spent some time experimenting until we got better results.

Because of the audio we needed to reshoot the scenes again. We were a bit downcast at 'losing time' but in fact it turned out for the best as Philip decided that he wanted to take a different approach to his role and he was more comfortable with his revised performance. Tuesday also saw the crew grow by one additional member---Alice Thomas joined in and provided able assistance with various tasks as well as operating the clapboard (slate) for all our scenes.
Tuesday went by in a blur---but our planning was paying off---by the end of the day we had master shots and a variety of medium/close up shots for almost every scene. Wednesday morning we shot the final scenes and then a series of cutaways. We packed up and bid adieu to the clubhouse.
The production is now in editing, and the footage is being made available, along with a copy of the shooting script, to club members who want to take a shot at editing. We hope this has been a positive and fun learning experience for all involved.
Look for Gin and Tonic coming to a contest near you…!