OUR CHURCH PRODUCTION

It's a wrap. Our church production had its official release on December 24th 2005 to an entertained and enthusiastic congregation. Titled "
The Birth of Jesus: Luke 2: 1-20
", it was quite a team effort. But with some patience, good planning, and a touch of luck, it was a successful club project.
Looking Back
On Thursday October 6th Margaret and I met with Mark Green, a minister at the Cadboro Bay United Church, to discuss the project. Mark related how the church, in the past, had staged a nativity play or used a multimedia presentation to tell the story of Christ's birth. But, with the club's help, he now wanted to tell the story with a movie—combining footage of children from the Sunday school, with narration, and set to an original musical soundtrack.
Margaret and I were hooked, and after discussion with the club executive agreed to head up the production.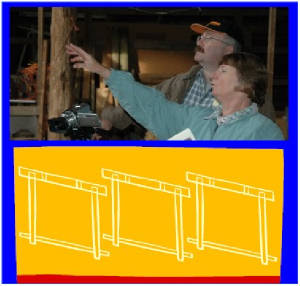 Clearing the Hurdles
What do movies and the 100-yard hurdle have in common? They're both challenging to complete, with lots of obstacles to get over. We took a few deep breaths, did some mental calisthenics, and got started.
The first few hurdles were cleared quite quickly. Mark said that he had a narrator in mind ("He has a beautiful voice," said Margaret), and also indicated that he would organize the children and costumes. A few more hurdles dropped behind since we didn't have to worry about location sound or children 'remembering' lines—
hallelujah for narration.
But I thought the next hurdle would be huge: finding the right location, and getting permission to shoot. But Margaret surprised me with a phone call to announce that not only had she found two perfect locations, but she also had tentative permission from the owners. And the farms were just across the road from each other! I was ecstatic. We teamed up on October 16
th for a scouting trip, and we happily agreed that a major hurdle had been cleared.
Welcome Aboard…

We knew that we couldn't do this on our own. So the call went out and we were gratified to welcome Mila Werbik, Don Jensen, and Ray Painchaud aboard. Their help would turn out to be invaluable…
On October 26
th Mila joined Margaret and I for another scouting trip to our manger site. We compiled a list of 'required equipment', including lights, extension cords, and so on, and discussed shooting angles and composition. During the visit Mila suggested a location for Mary, Joseph and baby Jesus, and this turned out to be a breakthrough—like one domino falling into another, because suddenly a number of staging decisions, such as camera placement, actor movements, and numerous other decisions just seemed to fall into place. Thank you Mila..!
Tell it like it is

On October 27th Mark notified us that Paul Miles was looking forward to doing the project's narration. We quickly scheduled a recording session for November 1st and Margaret improvised a 'recording booth' for the session using a small table, a metal frame, and some blankets (to dampen reflected sounds) at her house.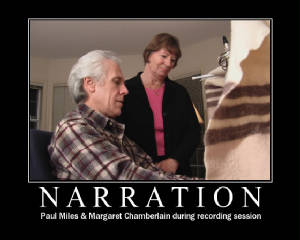 We had Paul read the narration several times, using different pacing and emphasis for each reading. After he had a chance to listen to the recordings he went back and re-recorded several sections. Then I took the recordings and used WaveLab lite software on my computer to merge the best takes into a 'final version' of the narration. Narration hurdle cleared!
Planning is Key
As the Nov 13
th production day rushed towards us, Margaret and I became more and more aware of the very limited time that we would have to video the children. We knew that we had to be really organized to ensure that we could get the shots we needed. How could we best prepare?
Well, a 'shot list' can get you organized when you are preparing to shoot a simple event (e.g. a birthday). A list with "children arriving", "playing games", "breaking the piņata", "singing happy birthday", "blowing out candles on cake", "opening gifts", "saying goodbye" can serve to remind you of the important shots that you need to shoot at your event, and later 'tell the story' with your editing.
However, for a complex event, where there are more people involved, Margaret and I knew that we needed something that could focus discussion, record decisions, and communicate with all the folks involved in the production. We knew we needed a storyboard.
A storyboard is a shot-by-shot plan of how the movie will look. It creates a common point of reference that validates how the actors will be positioned, filmed, and directed. So Margaret drafted the initial storyboard and then, on November 3
rd, Mark, Margaret and I met and refined the draft. Mark was able to "see" the shots, and request variations, because he could tell how the story would unfold. We even estimated timing for shots and determined where Mark wanted pauses in the narration for "musical punctuation".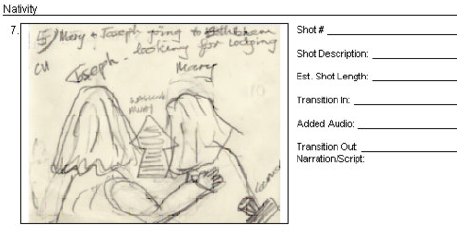 It's hard to explain, but when you are developing a storyboard you start to get a feeling for what will work and 'not work' in the movie. We spotted 'jumps' in the story that had to be filled in, and we were also able to come up with some cutaway shots that we thought we might be able to use later in editing. Don't get me wrong, on the production day you're still going to think of alternative shots that you will want, but the storyboard keeps you on track for the "minimum" shots that you need. And we knew that if a shot was missed it was very unlikely that we would be able to get the children back for another take! So time spent fine-tuning the storyboard was time well spent.
When Margaret and I met on Tuesday November 8th we agreed on the final, or shooting version, of the storyboard. Subsequently, each storyboard image was printed on a single page, with blanks for key information (shot #, description, transitions, etc) and with plenty of room for comments and notes.
Was this a hurdle? You betcha—storyboards are time-consuming. Did we clear it? Certainly. But by now our planning was paying off, and we had overcome our pre-race butterflies. In fact, we had established a rhythm for the project that would see us through to the finish line.
Manger Arranger
One of the last hurdles before production day was the setup of the manger scene. On Saturday November 12
th we dragged around tables, hay, fencing and other props to get our manger prepared. I had downloaded a number of images from the Internet, showing several variations on the traditional manger staging and these helped guide us in our decisions. We experimented with lighting and shot angles until it looked right, and then packed up for the night.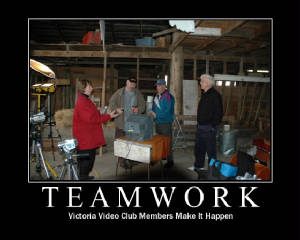 At this point we should have felt happy. But the weather report for Sunday was predicting 100% chance of rain—which would mean rescheduling the outdoor shepherd shots—so our spirits were actually a bit low as we headed for our homes.
Production Day…
Arrived cool, clear, and windy. Yahoo! We were all amazed and energized: all systems were "go"! The crew rendezvoused at our manger site at 11:00am and spent some time fine-tuning the manger setup, and discussing the afternoon's activities.
Our plan was to shoot the shepherd's scenes first so we headed down to the "Shepherd" site and were greeted by our enthusiastic bands of Shepherds and Angels and their parents!. In no time the children were dressed in costumes and the cameras were rolling.
However, one major hurdle became apparent. The fields that had been filled with sheep were now filled only with waving stalks of grass, and one sheep on a leash. The sheep that were supposed to be coming out of the barn to join us had taken a page from the donkey handbook and were stubbornly refusing to come out. They all had nice wool coats on, but it was too cold, apparently. We shot a bit of footage with our shepherds and our 'one sheep'—but thanks to Margaret we had a backup plan (footage of sheep that she had shot during one of our scouting visits) so we carried on shooting our planned shots.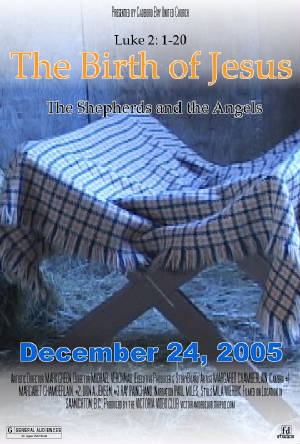 In the blink of an eye an hour had passed and we were piling back into cars and heading across the road to shoot the manger scenes. Another hour passed and the film crew waved a tired but happy good-bye to the departing actors & parents. A relatively quick clean-up occurred and we called it a day (well, it felt like a day-and-a-half).
Post-Production
We ended up with 62 minutes of footage and a great storyboard to guide the editing down to approximately a four-minute movie. Margaret and I individually edited the footage into a rough cut and then we met to compare notes. With input from Mark, we merged our efforts and ended up with the release version.
Mark took this release version and worked with musician Christine Chepyha, who played the Bandurra, and sound engineer Gordon Miller (
www.millermusic.ca/
) to produce the soundtrack.
Meanwhile, Cynthia Werbik produced a "making of the movie" video from footage and photographs shot by Mila. The movie nicely captures the "behind the scenes activities" and it was a joy to be able to add this to the final DVD.
In Closing
Margaret, thank you for all your time, energy, and advice that made this project a success. You are amazing to work with. Mila, Don and Ray, what can I say—without your help we couldn't have done it. You really came through for the project. Thanks!