Video Jargon Trivia: What does the term "Wild Track" or "Wild Sound" refer to? If an image of the untamed savanna popped into your mind, with a roar of a lion, chattering of monkeys, or some other appropriate wild animal noise, then you're wrong. If you answered, "…non-synchronous audio recorded independent of picture (e.g. rain on roof, train whistle) often captured with a separate audio recorder, or with a camcorder," then you get ten points.
Lets say that you are out on a shoot, capturing nature at its finest---the birds, the bees, the nudist beach, the airplane flying over. Shucks, ruined the best shot of the month, the ruby-throated feather-breasted Warbler in full flight (just go with it for a bit, ok?). So you've got the great footage, but that airplane noise is spoiling your audio. Well, the bird may have flown, and the plane has winged its way out of hearing, so why not take a moment, put down your camera and capture that "wild sound" of the environment where the bird was found. Later, during your editing, you can cut out the audio with the airplane and replace it with pristine non-airplane contaminated audio.
Ye-Ha! Wild Sound to the rescue..!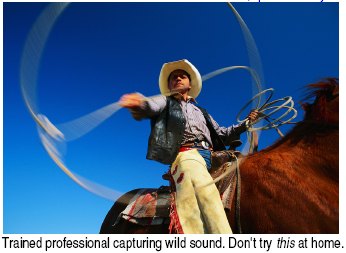 Ok, lets stretch this a bit further. Lets say that you captured the Warbler, in all its glory, and you didn't notice the sound of the airplane spoiling the audio until you are back at home starting to edit.
Do you have to head back out and spend time tromping through the forest to get some background audio..? Nope. You don't if you have a computer and can put "Atmosphere Deluxe" to work for you. Atmosphere turns your PC into a generator of natural sound environments. A few clicks to select the environment that you want, and then you can record your audio and incorporate it into your video.
Let your ears be the judge. There is a "Lite" version that is free to download and use. The free version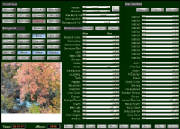 has twelve nature sound presets (storm, downpour, woodland, dawn chorus, etc) so you can experiment and see if it's worth upgrading to the "Deluxe" version for $29.95 US. And there is a 21- day trial version of Atmosphere Deluxe so even that can be tested before you pay for the 'unlock code'.
Right now the software only runs on the PC, but they say that they are working on a Mac OSX version.
So, click on the "Meadow" preset, add some bird sounds, and leafs blowing, record the sound and bid adieu to the pesky airplane that spoiled your award winning footage. I'll download the trial version and record some of the sounds on a CD that we can listen to at our March meeting.
However you get your "wild sound" it's a trick of the trade that you should get into the habit of collecting—add this skill to your "Video Toolkit" because when you need it, you REALLY need it.
Michael "Wild" Veronneau
Atmosphere Deluxe $29.95 by VectorMedia Software http://www.vectormediasoftware.com/index.htm