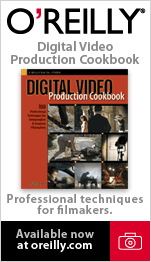 DATE Tuesday, May 30, 2006
PLACE Cadboro Bay United Church, 2625 Arbutus Road, The Lounge
TIME 7:00 p.m.
PROGRAM
Peter Bruce, a professional photographer, will be speaking to the club about aspects of photography that also have implications for making better video. Peter operates a business that looks to build strength and social purpose in the community and he will be showing a video called "Celebrate What's Right with the World" (22 min) that is very motivating and "...teaches what a powerful force having a vision of possibilities can be for you."

Following the break there will be:

discussion about the election of club officers for the June meeting,

viewing of the entries for the club's Assigned Subject contest, and then

more movies from the club's AMPS and AMMA collection of productions.

- - - - - - - - - - - - - - - - - - - - - - - - - - -
THE NEXT EXECUTIVE MEETING - will be held on Thursday June 1, at 7:00pm at the home of Eleanor Haire.
THE "GOODIES" for the May meeting will be provided by Mila Werbik.
THE ONE MINUTE CONTEST deadline is the May 30 meeting. In this contest, your videos may be on any subject but must be no longer than one minute in length, including titles and credits. There is no limit to the number of entries you may submit. In this contest only, you are permitted to put more than one entry on a video cassette or DVD.
THE SCCA CONTEST - The deadline for submissions to the 2006 SCCA video contest, is FAST approaching. The SCCA contest chairman, Keith Gloster, must receive your entries by June 15.
CLUB PICNIC(S) - Margaret is holding a picnic at 11:00 a.m. on Tuesday June 13. It will be held at her trailer site (for the early part of the summer) at Osborne Bay, Crofton. It takes just over one hour to get there from Victoria. Directions will be available at the May meeting. Please bring a bag lunch and two pieces of fresh fruit for a fruit salad.
There will be another picnic sometime during the last two weeks of August at Margaret's second trailer site at the Beachcomber RV Park on 3290 Campion Road, Saanichton (near Victoria). More details on that later.
FOR SALE - CLUB'S DVD PLAYER: The club's RCA 5-Disc DVD player is for sale as it is too large to fit in our storage cabinet. The price is $50.00 or best offer. It is progressive scan, accepts all formats and can hold 5 discs at once.
LATEST ADDITION TO THE LEARNING LIBRARY is the "Art of the Documentary, Ten conversations with leading directors, cinematographers, editors, and producers" by Megan Cunningham. In the Art of the Documentary, the directors, editors, cinematographers, and producers reveal the thought processes, methods, and collaborations that have guided their efforts. Look for this book in the "Advanced" category.
THE RESULTS OF THE ASSIGNED SUBJECT CONTEST ARE:
| | | | | |
| --- | --- | --- | --- | --- |
| 1st | "The Wayward Wind" | | Eleanor Haire |   |
| 2nd | "Wind" |   | Margaret Chamberlain |   |
VISITORS are always welcome at our meetings. Bring along a friend.