Making a Silk Purse from 1990's Hi–8 Tapes
I'm sure you get the drift of the title of today's sermon.
Since your humble scribe has been homebound for a while now, I resorted to digging among my "old stuff" and, while nodding off at night, thought out a plan or two to make "new wine from old bottles" (there I go again!) All those tedious hours I've put into hand-writing the sequences of each tape, by time-code and tape number, has paid off.
In box A of Hi-8 originals, a handful of tapes taken on trips to Newfoundland—all dutifully referenced. An abiding, joyful memory of our vacations in Newfoundland was the music of the Newfies' accents, dialects and idiom and the reasons why we can still hear them today. Alive in Shakespeare's time, but now extinct, they still falls on visitors' ears.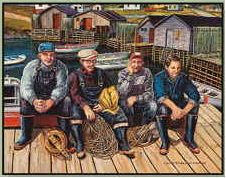 I remember how I carried a larger than usual camera bag… some pop and beer—lubricants that encouraged curious Newfoundlanders to speak on camera. A chat, a drink, a few "takes", some more stories and jokes, a review through the camera viewfinder by all—"on location."
Recently, at about 11:00PM one night, I began planning a movie. I created a "Promise", a theme. "The Newfie twangs and how they got that way and why, today, they survive".
To meet a Contest deadline, I made a "version", but I knew I could improve it. The storyboard, preserved on the hard drive, I went to work by adding extra commentary, music here and there, a few audio "stings", and redoing a conclusion that returned the audience to the "promise" —much better product.
Although I may have captured the flavor of Newfie twangs, I realize that a "general audience" may think they're hearing a foreign language. But, good folk, if you're just a "beginner" language enthusiast, you have to love Newfoundlanders all the more. Their jokes and anecdotes spoken in standard Canadian are nothing. There's no "music."
The moral of the story is that "it's not over till the fat box of old tapes sing."
Your humble scribe
Dave
The May 15th Club Workshop

was a success. Folks brought jokes, a script, some poems and a story or two. There was plenty of discussion and a few laughs. A summary of the ideas (that could lift us "up, up, and away!") will be presented at the June meeting. Something for people to consider over the summer for a fall production or two...
The May Meeting
Peter Bruce was our guest speaker for the May meeting. He chatted with club members about what can be achieved when there is a shared vision, when there is a positive outlook, and when you can go beyond the ordinary into the extraordinary.
Using a laptop, a projector, and a series of photographs Peter took us on a journey of discovery. Starting with an establishing shot of his kitchen he proceeded to select several items within that room. Using those items he showed us how they can be photographed to look "ordinary" or "extraordinary". A vase of flowers morphs from something that is 'nice' to something that is 'arresting'.
We also enjoyed the 22 minute video called "Celebrate What's Right with the World" by Dewitt Jones, a moving tribute to being positive, looking for possibilities, being your best for the world—and "Believe it and you'll see it."
Our Club "Lawn" Sign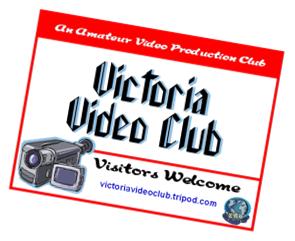 Thanks to everyone who provided feedback on the sign. It has now been finalized and is available to be stuck in the grass, or hung on a wall—anywhere that members of the illustrious Victoria Video Club choose to congregate. Many of you saw the sign at our May meeting, and its inaugural unveiling was at the Club's picnic held on Tuesday June 13th up in Crofton. Here is what it looks like:


Club Picnic in Crofton: June 13, 2006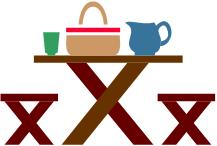 While US President George Bush was meeting with the Prime Minister of Iraq to discuss weighty matters, a number of seasoned video club members were gathering to have a heck of a good time on the shore of what once was Crofton's smelting plant. A solemn declaration of "Get Well" was drafted and signed by all attendees, and dispatched post haste to the Fuller residence of Nanaimo.
Business completed, Hugh regaled us with some history of the area, from the copper mine up on Mt. Sicker, along the narrow gauge railroad that wound its way down the slopes delivering the material to the smelter, and to finally the black slag that makes it look like someone dragged a tree-sized drafting pencil along the coast to better outline the curves and sweeps of the shoreline.
Lunch was followed by a stroll along an excellent walk-way from the campsite to the old school house—now a delightful museum. We perused Crofton's history, admired a model of the smelting plant, and sorted through the collection of school books (several which Ray and Hugh recognized from their school days). The trip back entailed a hike up a fairly long hill, and so small clusters of club members gathered at several points to stop and admire the (million dollar) view of the landscape and water before proceeding.
The event was topped off with a wonderful fruit salad, with a dollop of ice cream, and everyone left feeling refreshed. Thanks Margaret, for bringing us all together.
Your voice
Have you ever felt that you didn't have a voice? How about when you were very young? Perhaps the "Seen and not heard" was applicable to your growing years? Maybe you found an outlet, such as a diary, or a pen pal to communicate those important things to…?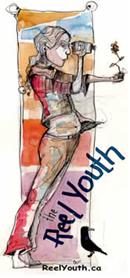 Well fast forward to 2006 and youth today reach into their communication toolbox and come out with tools that can reach a very narrow or very wide audience. Internet chat rooms, web logs (Blogs), and next but not least: movies!
The Reel Youth Film Festival (http://www.reelyouth.ca/ ) is on tour in BC, appearing in various locations on the island and the main land, and is an outlet for the movies that youths under 19 years old are making.
The festival was in Victoria on May 25th and its clear that youth have no problem speaking out on a number of issues of importance to them. The films, submitted by youths aged 7 to 19 years old, came from all around the world. Local submissions came from the Intercultural Association of Greater Victoria, Oak Bay High, Reynolds Secondary, and Stelly's Secondary as well as from various independent filmmakers.
Mila attended the festival and obtained a DVD that highlights some of the submission. We'll have an opportunity to view some of these submissions and see what the next generation of filmmakers is creating.
Learning Library in 2005/06
The club's learning library has grown by approximately 22 items, mainly books, this year, thanks to the User Group Programs of Peachpit Press and O'Reilly Media Inc. A quick tally tells me we've added approximately $700 worth of material. Wow.
Training DVDs/Tapes for 2006/07
At the May executive meeting, Eleanor asked me to make a short survey of what training DVDs are available in the market. Eleanor explained that the Senior's Video club had purchased the Videomaker series of training tapes, and that they were found to be very useful. I've compiled a summary of what I've found, and that will be included with this edition of the Bulletin.
I believe that adding some multimedia-based training materials to our club's learning library would deliver two benefits. First, it is an incentive to new members to join our club. They gain access to training material that would be relatively expensive for the average individual. And second, these materials are likely to stimulate discussion and encourage existing members to critically examine their own skills & techniques.
Regretfully, none of the vendors that offer these multimedia-based training materials runs a user group program…so I don't see any opportunity to obtain these materials without some financial cost to the club. But I strongly believe it would be money well spent.
Cheers, Michael